So the ring is on your finger, the proposal story still jerks a tear to the eye, and the Pinterest boards are full steam ahead with plans in the making for a wedding that will have every last guest reaching for their hanky. But where to say your beautifully hand-written vows? Finding the perfect wedding venue is the next big tick on your list, and you're all set to get venue hunting with the best of them.
Will it be a destination wedding with a mountain elopement? A lakeside wedding venue in Wanaka, NZ? A tipi wedding venue with twelve tipi tents, breathtakingly dolled up with strings of lights and moroccan themed furniture? Whatever your dream venue may be, whether that's an intimate wedding venue in Wanaka or a Pinterest inspired tipi tent in NZ's stunning landscape, there's no end to the possibilities.
But, as seems to be the case with all things wedding planning, there's a lot more to think about than you realise when it comes to finding the best wedding venues, Wanaka wedding or not. So, if you're sitting there thinking you don't even know what you don't know, you've come to the right place. We're here to help you figure out just how to choose the wedding venue of your wildest dreams, and all the niggly bits and pieces in between. Read on, lovers.
What different types of wedding venues are there?
We like to think of 'wedding venues' as a loose term. Gorgeous, catered estate with a casual vineyard in the backyard? Obviously. A tipi wedding hire at the campsite down the road? Done, and it was ridiculously perfect. The point is, a wedding venue can be whatever you want it to be, and there's an endless list of types of venues when you start getting creative. Tipi rental or not. Here's a few of our favourite locations.
Down on the Farm
Trust us, paddocks can make for the perfect site. Got access to a farm? Got a mate with access to a farm? Got a mate with a mate with access to a farmer friend who's got a farm? Get in there, asap. Think a golden, Nordic tipi in a field full of flowers, sparkling lights under the open starry sky, smoke from the fire flickering in the warm night air. Dreamy.
If you're looking for a cost effective option, a paddock is by far the most wedding budget friendly option, and conveniently, it also means you don't need to worry about those pesky curfews, or being tied into vendors and suppliers that a purpose built venue would normally use. Perks all 'round. Oh, and if there's a woolshed or farm building nearby, that's even better. We can just plug into that for power.
Top Gather & Gold tip? Why not keep the tipis up an extra day for a post-wedding BBQ? If you've got your own site, there's usually no pressing time restraints. So why not drag out the festivities as long as you can?
Backyard
Coming in at a close second, making memories that will last a lifetime right in your own backyard is an incredibly special experience. Or, if not yours, then think outside the box. The parents have a nice place? The parents' neighbours have a nice place? Anyone you know that has a beautiful home with the perfect area for a tipi tent hire? There's your ace. And again, this way you're (usually) not tied to any specific vendors or any tight curfews. Though, might pay to invite the neighbours.
Get into nature: Lakeside or Mountains?
There's a reason people flock to Wānaka and Queenstown for their big day. Nothing says incredible Kiwi landscapes like a wedding venue in Wanaka. New Zealand has some seriously stunning views, and personally, we think the best ones are right here in the Wānaka-Queenstown region. Lakes, mountains, rolling hills, enormous skies. If you're looking for a wedding amongst some of the most breathtaking natural elements, maybe even throwing in the odd tipi, NZ is the perfect place to be.
A few of our favourite sites include Dublin Bay Weddings, Lake Hawea Station, The Olive Grove, or NZ High Country and Moke Lake in Queenstown, to name a few. In fact, we've got a pretty extensive list of sites to suit all types of budget and personal taste, some of them exclusive to us. Lucky beans, we are.
If you're interested, do reach out for the full list – we're always happy to meet up and show couples around different sites. Or, if you're not based in the Wānaka–Queenstown area and are looking for a tipi wedding venue near you, reach out anyway. We travel.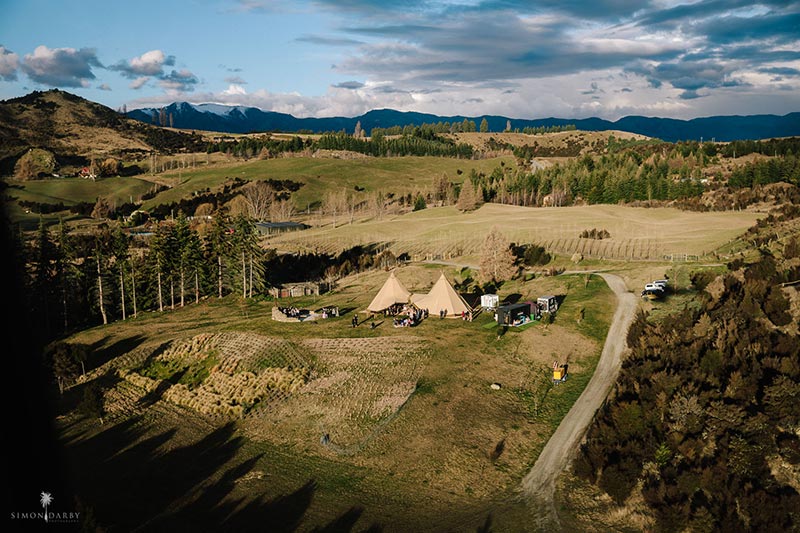 Vineyards
It's no secret that Central Otago is a wine making paradise. Drawing wine-lovers and wine-curious alike, the stunning vineyards decorating the Central Otago countryside make the perfect wedding locations that are tipi-perfect. In fact, not to name-drop, but we rub elbows with a few stunning locations, and have partnered with several incredible vineyards to provide the perfect wedding vineyard location. Flick us a message if you want to get in the know.
Lodges
We're lucky enough to have some amazing, world-class luxury lodges in Wānaka and Queenstown. We've built tipis at one or two of the finest, and can promise you they make for one incredible setting. You'll have all you need, right on your doorstep – amazing accommodation, power, bathrooms, and a kitchen.
We've built tipis at the likes of Minaret Station and with companies such as Touch of Spice and Release Wanaka, who have several different lodges to choose from tucked up their sleeve. That being said, a firm favourite would have to be Lake Hawea View. That place makes choosing a venue REAL easy.
Know your wedding priorities
Read that again. Honestly, we couldn't stress this one enough. It's so crucial to figure out right from the start what exactly your wedding priorities are, and work around that. Whether you're planning a year in advance or two months in advance: get your priorities down first. We promise it'll help. Think about things like:
Guest numbers
After a small wedding venue in Wanaka, or a big ol' shindig with everyone's aunt and uncle? Want a wedding ceremony and reception at the biggest vineyard on the block, or would a one-tent tipi hire be just about perfect for you? Whatever you're after, remember that the more the guests, the bigger the budget. But then, hand on heart, we've never regretted the money we spent on our own tipi wedding. We've got memories that will last a lifetime.
Season
When it comes to choosing the season, the obvious months are February to March. That being said, people forget just how beautiful an early summer wedding can be, with cooler temperatures and plenty a spring bloom to choose from. Or on the other end, an autumn wedding can be a truly spectacular event – usually the weather is beautifully settled at this time of year, and dusk is slightly earlier for more night-time antics. Your wedding photographer will thank you.
Surrounding events
Any important events happening around that time? Make sure you take a quick inventory before locking in your wedding date. Might make things a little awkward if you plan your wedding on the same day as cousin Lucy's.
Budget
Top tip? Work out your budget and go from there. Whether it's the tipi marquee hire, the photographer, the huge floral displays, or the stunning twelve-course cuisine – it's crucial you've got a budget in place before you start throwing yes's around. Once you've got a good grip on the dosh situation, you can prioritise your must-haves.
Remember, big weddings don't necessarily mean a big budget. It's pretty amazing to see families pulling together to create amazing weddings, from Dad's manning the BBQ to mother-in-law's sorting the flowers. Or vice versa. Whatever floats your Dad's boat. Besides, so as long as you've got good food, a few drinks on tap, and a good dance floor? Your guests will have the time of their lives.
Make sure you ask the venue lots of questions
Your wedding venue is there to support you on your big day, and trust me, they want to. They're there to help, so don't be shy on the question front, and make sure you cover your bases. Unsure what questions to ask your wedding venue? That'll be specific to you, but think about things like how long is the site hire? What does the cost include? Is power/water/toilets part of the deal? Those sorts of things.
On top of that, it's so important to choose people and vendors you genuinely want to work with. It's your big day, and probably one of the bigger expenses you'll undertake, so make sure you 100% trust your vendors – from site to flowers to toilets, and everyone in between. After a few recommendations? Get in touch for our list of favourites.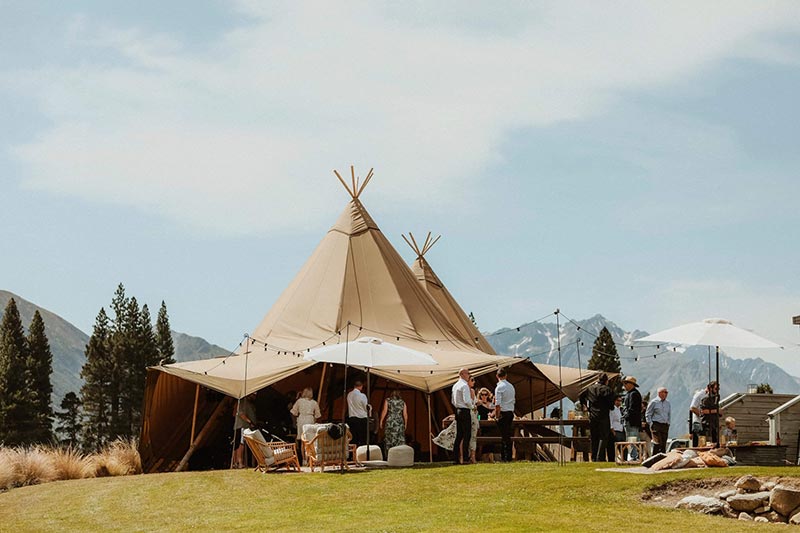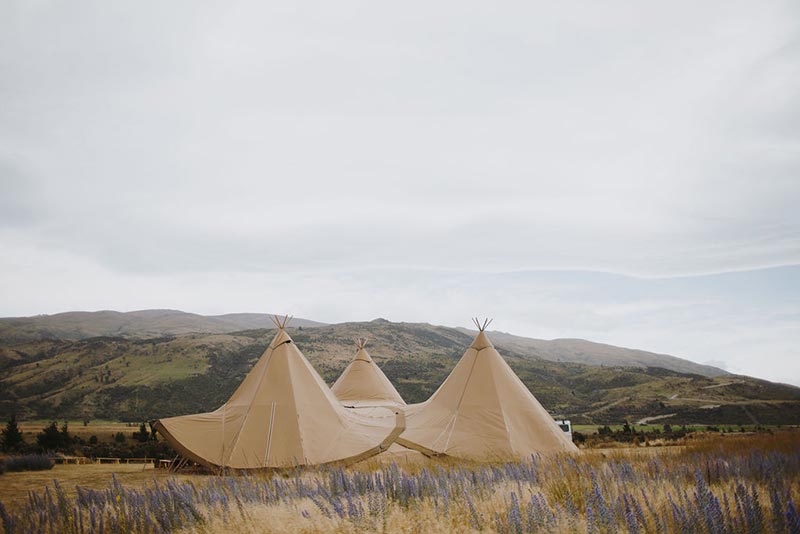 Don't delay in pencilling in or booking your wedding venue
This one speaks for itself! It's important to make sure your chosen venue ticks the most important boxes – but don't hesitate too long. It might just get snapped up before you know it. It's especially blink-and-you-miss-it around the summer months, so a word to the wise? If you're wanting a sunny summer wedding, it might pay to sort your venue as quickly as possible.
Check out these wedding venue options in New Zealand
We've got a loong list, baby. Get in touch with us today, we'd love to put you in touch with a few of our favourites.
So there you have it. From our heart to yours, there's our top recommendations on how to choose the right wedding venue for you. Whether a starry night tipi wedding in the neighbours paddock or an extravagant night-to-remember in a Central Otago vineyard, we can guarantee your wedding day will be one you'll never forget.