With a full tipi wedding on the shores of Moke Lake in Queenstown, Julie and Tim's wedding journey was a perfect celebration of both their love for each other and their love for New Zealand. Down to earth, laid back, and totally enraptured with the vision of a tipi wedding, these two were an absolute delight to work with, right from day dot. As American Kiwis, we did a lot of distance-planning aka 'can you hear me ok' video chats, but with a longer engagement to work within, this was never an issue.
Tim and Julie's dream was always to show their American family just why they loved New Zealand, so it was only right that the wedding took place at Moke Lake, a perfect representation of Aotearoa's natural, captivating beauty. With no cell reception and surrounded by the rugged Queenstown mountains, the couple's wedding combined beautiful luxury with the authentic Kiwi experience for a day they'll never forget.
Below, we interviewed the lovely Julie on her tipi wedding experience with Gather & Gold – read on for the inside scoop and some priceless nuggets.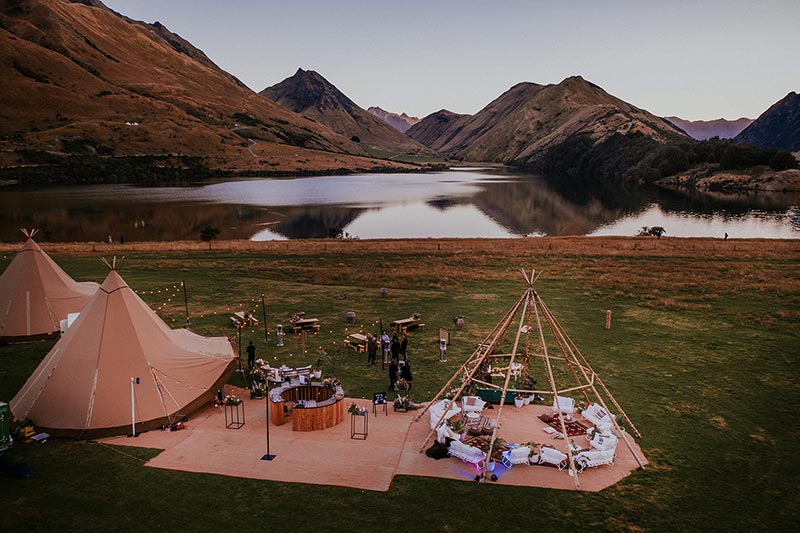 Where did your tipi wedding planning journey begin?
Once we got our incredible planner Stacey on board, we had the first of many Skype sessions (being located in LA and all). Then it was a month or so of going back and forth between two different venues. We ended up going with the larger / more open one so we could have maximum tipi presence, and we're SO glad we did.
Did you have any must-have vendors? If so, who and why?
Gather & Gold! And I'm not even just saying that – I was only set on a few elements of my wedding, and tipis were one of them. Artisan Catering was also one of the first vendors we booked – we're serious food people.
Going into this, did you have a clear vision of what you wanted for your big day? Or were you guided by your vendors?
We always knew we wanted a laid back festival / nature vibe that celebrated our love for New Zealand, but other than that it was heavily guided by our incredible planner Stacey, and our florist Kyla. They could not have been more helpful, patient, and supportive throughout the entire process.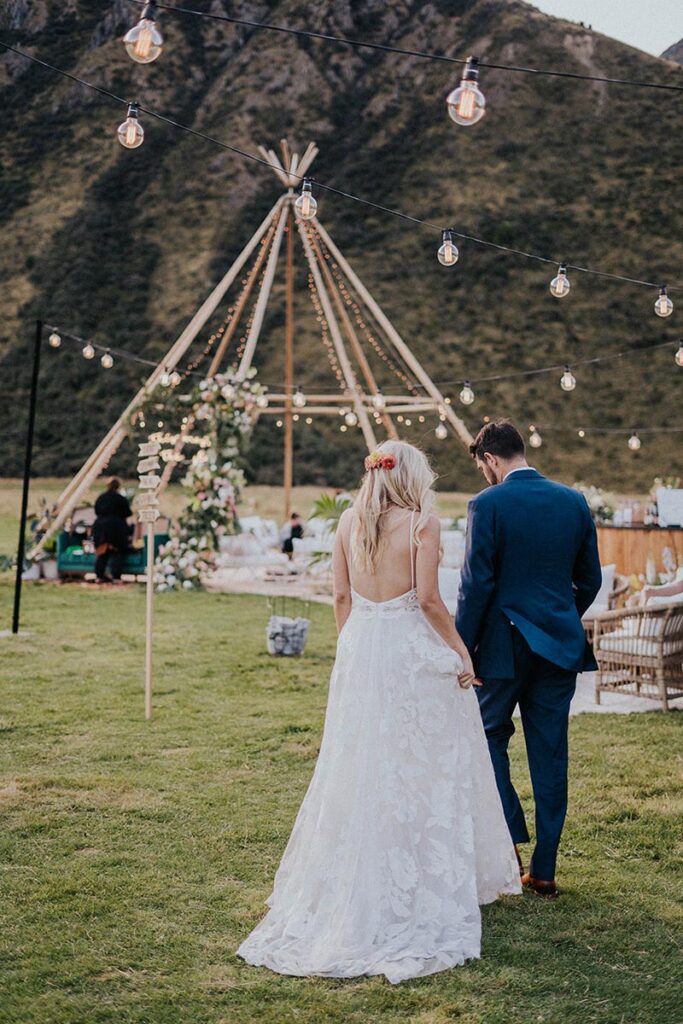 What's one thing about your day you're stoked you did?
Ended up with a naked tipi! It's definitely a tough one to plan for with New Zealand's crazy weather and all, but it was such a spectacular addition and really ended up being the focal point of the whole wedding. And full disclosure – Mother Nature, Gather & Gold, and our angel planner Stacey were entirely responsible for this.
One of your favourite moments of the day?
When the boys stripped down and jumped in the lake at the end of the night, for sure. What a way to round things off.
What was your favourite small detail?
Espresso martinis, spicy marg cocktails, the disco ball, and the leather poufs. How could I just pick one?
Any moments that had you ugly-laughing like a kid?
Getting called out for my "mountain chic" dress code during the ceremony. I tried to be super hip and unique, but it just confused everyone and became one big gag. So learn from my mistakes, and don't try to be cool for your wedding!
Do you have any advice for future tipi-couples that you wished you'd known?
I feel like this is kind of cliche but here it goes – things are not going to go entirely to plan. Your big vision will be messed around with, tweaked, adapted, and it will still work out better than you ever imagined. Promise. If you have vendors you trust (and a little bit of faith), it will all come together in the end, and you'll be thrilled with the final outcome.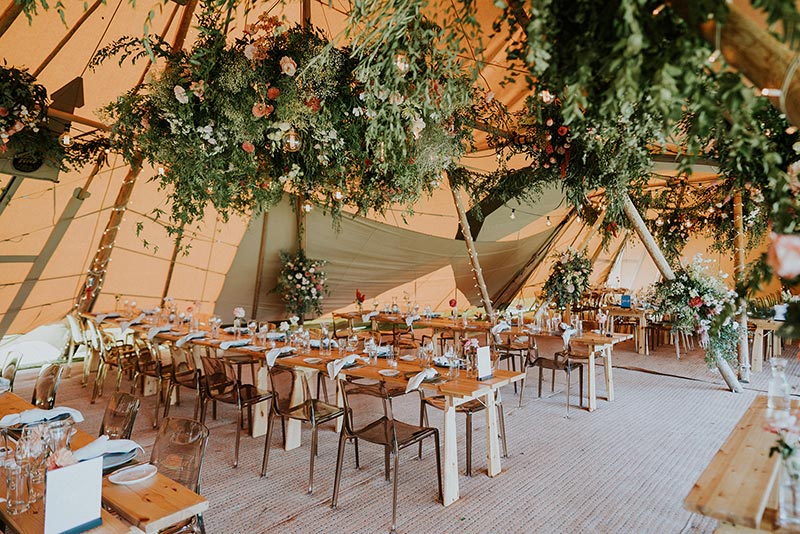 Any hot tips for loved-up couples heading towards the altar and planning a tipi wedding?
Just enjoy the process and trust the experts. There's no going wrong when there are tipis involved!
From the whole team at Gather & Gold, we loved every minute of working with Julie and Tim to make their dream tipi wedding a reality. From helping to bring in stylists, florists, and caterers, to hunting out the perfect location at Moke lake, it was an absolute pleasure getting to know them and we're so happy to have been a part of their special day.