For Wānaka locals Katie and Dan, their dream wedding came together in an epic collection of family, friends, tipis, and stunning South Island landscapes. Emphasis on the stunning scapes. We adored working with the couple – and being based in Wānaka, it means we get to bump into these lucky locals in the supermarket every now and again. The fruit and veg section has never been more pumping. Right from the moment Katie and Dan laid eyes on the tipis, they knew they were in love (with the tipis, of course – the human love story came much earlier). The rest of the wedding was centred around the majestic fixtures, and we had such a great time working with this couple to bring their entire wedding weekend to life.
Katie was so creative, putting so much thought into every detail of the wedding to bring together such a one of a kind, special day. And it was so great to see how their friends and family came together to help out, creating an authentic sense of family, community, and shared celebration for the so-loved couple. Katie and Dan, it was an absolute joy.
Read on for a behind the scenes look into all that went into the big day from start to tipi.
Where did your wedding planning journey begin?
On top of a mountain! After Dan proposed, we got straight to the good bits and agreed our wedding should be a celebration of us. We both knew a glitzy, glamorous wedding was not our tune – instead, we wanted it to be down to earth, a reflection of who we are and how we lead our lives, and a way for us to connect with our nearest and dearest as they supported us and our big leap.
For us, that meant finding a way for it to be local, outside, by the water, at a beautiful location, and with decent room for a band, dancing, and other shenanigans. And of course, extra points if everyone could just crawl into their nearby beds at the end of the night. But even with a clear picture of what we wanted, we didn't realise how tricky it would be to tick all these boxes.
There are so many great vendors in Wānaka, but as soon as we connected with Gather & Gold things just sort of fell into place. We're stoked we got in touch so early in the planning stages, because Gather & Gold brought such vast knowledge of the wedding industry, and were so easy to chat with about all our different ideas. We felt so supported, it really felt like anything was possible!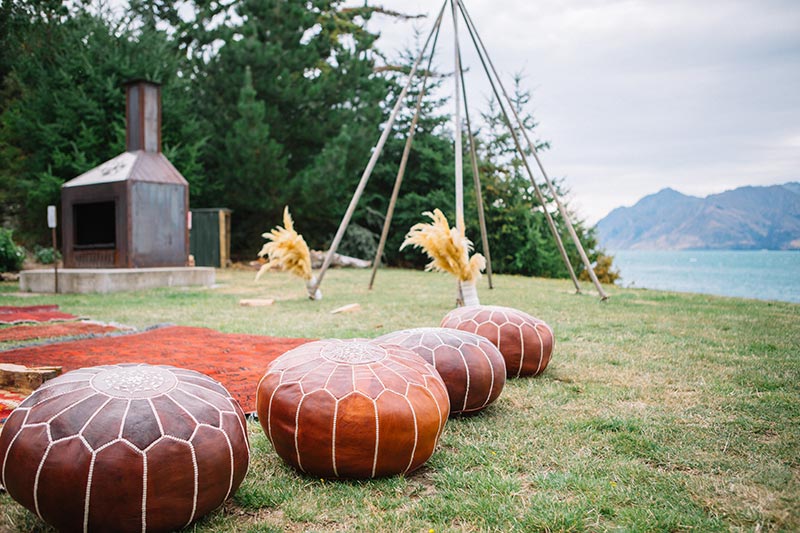 Did you have any must-have vendors? If so, who and why?
Our biggest and best call with vendors was making sure the meaty bits were covered, and covered well. Dan kept saying, as long as we have good food, good drink, and good music, it'll be a grand time! That being said, it was absolutely the tipis that truly brought the whole scene together. They turned the whole place into a fairytale – without them, we would've had a very plain time stomping around a wet campsite when the rain came in at 7pm, desperately trying to keep a good thing going.
We chose the Hawea Holiday Park for our venue, and our setting couldn't have been better. A lakefront ceremony with a sheltered mature tree clearing was just the spot for the tipis, and meant everyone could stay the night if they wanted. Francesca's Pizza was also a bloody good choice – they catered to everyone's eating requirements beautifully. Plus, who doesn't love pizza?
B.Effect supplied kegs for us that were beautifully received. We had a local Wanaka Lager and a Press Send Pale Ale – one for each camp of beer drinkers.
Racers Edge sorted our Tandem Bike, and it was a hit. Good times were had by all, with many taking it for a joyride around the campground or speeding off to the loo – and we even managed to get it back to the shop in one piece on Monday morning. Perks.
Jude Battson was our celebrant, an awesome lady who clearly gets such a kick out of her role. We'd big time recommend her to anyone trying to find someone professional, yet great at making that important connection.
We hired furniture, though truth be told I wouldn't recommend the vendor we used. Their comms were not so hot in the end. Regardless, hiring furniture was a great way to finish off the tipis! A couple of couches, poufs, rugs and cushions were the perfect finishing touches for the lawn area, and we got some great shots with our mates on the couches.
Going into this, did you have a clear vision of what you wanted for your big day? Or were you guided by your vendors?
Option two, for sure. Once we started chatting to Gather & Gold, it all came together.
When we visited the Hawea Holiday Park and saw the tipis that had been set up for the previous day, it was so easy to say yes on the spot. Then it was just a matter of locking it all in, which was a breeze. The location was the only real tricky thing for us, because though there are some great sites in Wānaka, locking them in can be a trick. Gather & Gold did have some great advice in this area! In the end, we went for the Hawea holiday Park, partly for its practical setting and partly for its beautiful surrounds.
What's one thing about your day you're stoked you did?
Got some lawn games! Nothing beats a bit of organised fun, and so many of our mates were hooked. It also proved to be a great way to bring our different friend groups together, giving everyone an out from the awkward small talk with a few killer lawn games to bond over instead. We had croquet, kubb, cornhole, pétanque, giant jenga, a slackline, and the tandem bike, all acquired from various contributors at the wedding.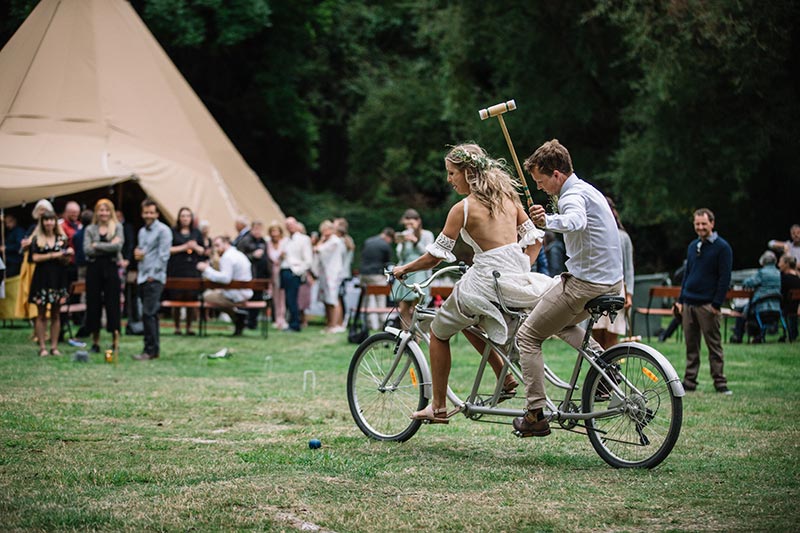 One of your favourite moments of the day?
The moment where Dan and I just stepped back and observed the chaos around us. Everyone was having a great time catching up, playing games, taking in the surroundings and enjoying the day, while we were just standing there in our wedding gear with big dorky grins on our faces. It was exactly what we imagined.
How did you save on dosh and cut costs while still making the whole day as special as possible?
Living in Wānaka, we probably had a significantly smaller budget than a regular wedding here. But in saying that, we are a young couple paying off a mortgage, so it was definitely a priorities game right from the start. We didn't want to miss out on any of the big things that would make our wedding the best day ever!
Our biggest money saving advice is not to sweat the small stuff – no one notices it anyway. We didn't get carried away with decorations, napkins, catering, or bartenders. We had an open bar and kegs from B.Effect, and we trusted the parents to keep their kids' noses out of the adults' goods. We were also so grateful to our good mate Matt Woods (who normally photographs us at mountain bike races) for offering his wedding photography skills as a wedding gift. We were also happy for our guests to take photos of us, so it meant we got some great shots of the entire day. Some of the candids even ended up being a few of our favourite photos!
We would also say, if your mates and parents offer to help, let them. Everyone loves a wedding, and we were super lucky everyone wanted to be involved and help where they could, giving you even more time to share with them all. My sister, mum, and aunties all helped with making table decorations using flowers, shrubs and toetoe we had collected the night before. It was so good to spend some time with them the night before the wedding, just joking around and having a great time. I'd also collected coconut yogurt and peanut butter jars the year before the wedding, which with a little of my mum's straw twine wrapped around them, became our decorative vases.
My brother's wedding gift to us was to roast a lamb from his farm – which granted, seemed a little odd to me, but Dan was pumped about it. Well, it was ready at 9pm when everyone was getting that second wave of dancing-fueled hunger, and it disappeared with some bread rolls in 15 minutes! It was so good, everyone raved about it.
Our snack platter was made by my sisters-in-law. We supplied all the food and gear they needed, spent a few months looking at dreamy inspiration, sent pictures back and forth, and in the end? They totally nailed it. My Dad was also a god-send. He spent the whole morning before the wedding with Dan making sure everything was just right. He put in so much effort – I didn't ask him to, but I knew when I arrived that he'd done a lot.
We also borrowed a lot from our friends: Sophie has a box of charity shop plates, cutlery and glassware that was a huge help in saving us a pretty decent chunk of cashs. We also borrowed festoon lighting from some friends, as well as making our own light stands from recycled boat punters and rebar, which we're still passing along to various friends as they get married!
Our friend Laura made our wedding cake – she'd previously brought a few cakes to Dan's work and impressed the socks of him. So when she offered, it was a big yes from us! We paid for the ingredients, and she made 3 layers of our favorite flavours with white buttercream icing, topped with olive tree twigs from my garden for decoration.
Our band were also friends that travelled over from Dunedin, so we were so lucky to have a big team of family and friends to help out when the money was tight due to Covid.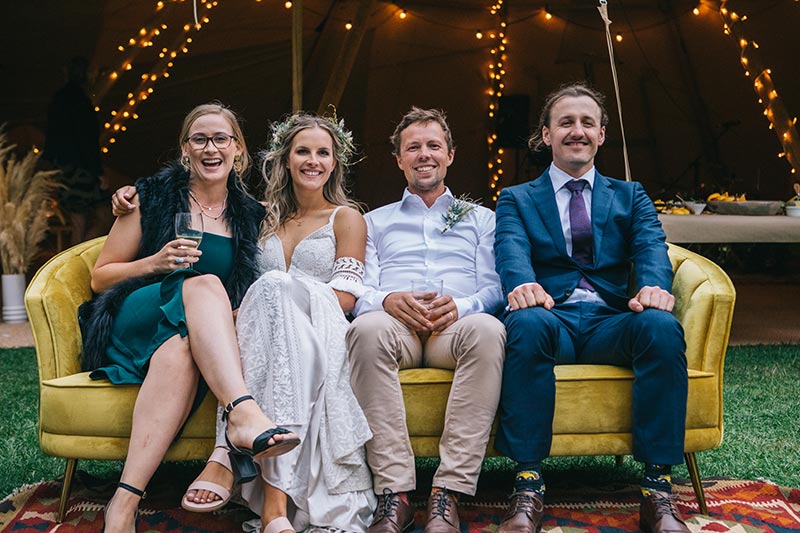 What was your favourite small detail?
Having a fire was awesome! We made the last minute call to add in the firepit hire, and it was a bloody good call. The weather in Wānaka / Hawea is a few degrees chillier when you're outside for the night, but the fire took the chill right out of the tipi. It was great to hang out around the fire and just chat with everybody. Then when the band stopped playing and it was raining outside, we just pulled all the couches around it and kept the party going till it was time to call it.
Any moments that you had ugly-laughing like a kid?
Oh, there's so many to choose from. Our MC and great mate Tim Couch had everyone's ear for some great yarns, but both our Dads' speeches had us in stitches for sure. Dan and I met when we were teenagers, and I don't think either of us realised just how much attention our parents were paying to us back then, or we may have reconsidered asking them to speak. Going back and hearing some of our antics from their perspective – we were crying with laughter.
Do you have any advice for future tipi-couples that you wished you'd known?
A tipi wedding really is the best time. Alongside being married, of course. Just do it – it's super easy, fun, and such a special way to celebrate your day. We had stellar reviews all around – in fact, I think a key part of the tipi Magic is that it helps people forget their idea of what a wedding is 'supposed to look like', meaning everyone just relaxes and has a great old time. It gives people the chance to enjoy something a little different and a little out of their comfort zone, which is not something you get to experience everyday. It was a great way to share our favourite place with our favourite people.
Other than that (and it might sound cliche) but just be yourselves. Everyone there loves you to pieces and just wants you to have a great time, so be a little selfish and do what makes you both the happiest.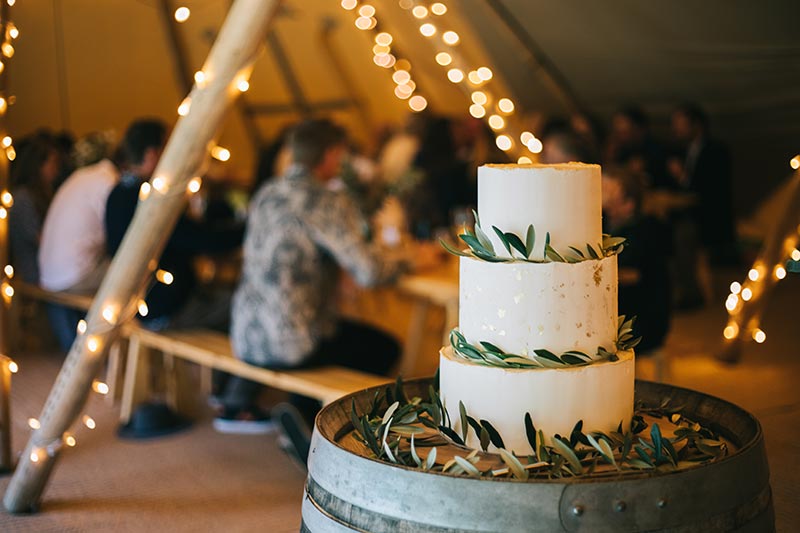 Any hot tips for loved-up couples heading towards the altar and planning a tipi wedding?
Being outside is colder than you think! Looking back, I almost wish we'd hired blankets, because it definitely turned out to be colder than we thought.
Take a minute or five to see your future husband/wife before the wedding. Ditch everyone else, forget about all the prep, and just enjoy five minutes with your partner where it's just the two of you. The whole day will fly by, and before you know it you'll be surrounded by all your family and friends, so it's great to take a minute for yourselves to just enjoy it.
Listen when they say don't check the weather! We got rain on our day, but in the end it didn't matter in the slightest. I'm stoked we listened and didn't spend the week of the wedding stressing about the weather! Our photos are way more interesting because of the lighting too.
To be very honest, Gather & Gold run such a smooth business. They made sure we thought of everything, even down to us hiring a generator because they saw the on-site plug was sketchy. Chat to the team, trust the tipi Goddesses, and just enjoy the process.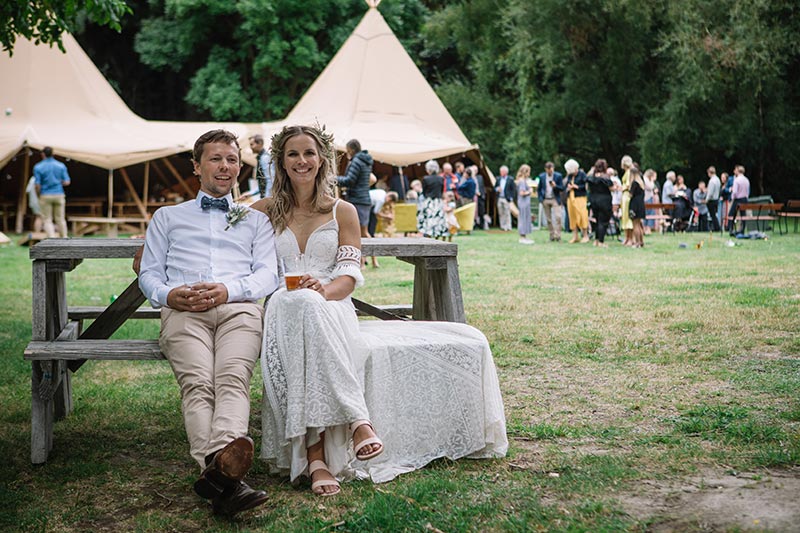 From the entire team at Gather & Gold, we can honestly say we just loved helping Katie and Dan along their journey, tipis and tandem-bikes and all. The way their family and friends came together to contribute to the celebrations was in all honesty a little tear-jerking, showing that at the end of the day, it's the people you're with that truly make the day. It also goes to show that tipi weddings can absolutely be held on a budget, and can often end up even better than planned. See you in the meat aisle, Katie and Dan.