Steeped in culture, tipis, and authenticity, the wedding of Netty and Jana was one for the books. All the books. Just put it in all the books. With Jana's Māori heritage, it was important to the couple that their wedding recognised his roots and the influence they had on his life. Bringing a beautiful element of Aotearoa's rich history, Jana and Netty celebrated with a borderline-ridiculously stunning tipi wedding that seamlessly combined both their Māori and Pacifica heritage. Jana's whānau brought a wide selection of kaimoana and meat that they had hunted themselves (someone married into the right family), and the whole day was one big celebration of Netty, Jana, and their closest friends and family. I'm not crying, you're crying.
We were so fortunate to work with Netty and Jana to make their unique tipi wedding happen just as they'd envisioned. Right from the get-go, these two knew that tipis were a must-have for their big day, so it was incredibly satisfying to help with such a key part of their wedding. Though it was quite a technical build working around Jana's parents' property, we were pleased as punch to make it work. Below, we chat with Netty about their big day.
Where did your wedding planning journey begin?
We always knew we wanted to get married in Queenstown (Jana's hometown) on his parents' property. As this wasn't an official venue, the first thing we looked for was a Marquee. We were living in Melbourne at the time, and I'd recently seen a couple with these awesome tipi's for their wedding. So, I Googled if Queenstown had anything similar, and when we saw the Gather & Gold tipis we knew instantly that we had to have them!
Did you have any must-have vendors? If so, who and why?
From there, everything revolved around the tipis. I'd seen Charlotte Kiri's photography work and was keen to chat with her to see if she was available, and when we hit it off straight away, I knew she was the perfect choice. I also had my friend Rachel Benton from the Green Room Flower do my florals – I already knew she had great taste, so we knew we'd be in capable hands.
Going into this, did you have a clear vision of what you wanted for your big day? Or were you guided by your vendors?
The theme of our wedding was "Maori Modern". We wanted to make sure that Jana's Maori heritage ran through the theme of the wedding, while still incorporating the modern edge. We also wanted to keep it simple, because the property and scenery really spoke for itself. We had a lot of faith in all our vendors, especially the Green Room Flower company, and all our vendors proved great great at suggesting those final touches. We gave Rachel our colour palette, and she came up with the best ideas and designs – I didn't even know what things would look like on the day, but she definitely nailed it!
Was it always an easy process?
I found the whole process rather enjoyable. We started planning a year out and once we had the big things locked in, it was a lot less stressful and meant we could slowly work out the little things. We wouldn't change a thing.
One of your favourite moments of the day?
Apart from the getting married part? Our favourite moment was surprising our bridal party with a helicopter ride up to Cecil Peak with us. They were blown away – I'll always remember the shock and excitement on their faces. We all had a blast up on the mountain looking out over Queenstown. That's not something we'll ever forget!
Do you have any advice for future tipi-couples that you wished you'd known?
Our best advice for future couples is to fully trust the Gather & Gold team. They are such experts in what they do! There is truly an art to the logistics/build/management of the tipis, and the team at Gather & Gold are all over it, taking care of all the details so you don't have to. They also answered all of our (hundreds) of questions without hesitation, so don't be afraid to ask questions. Enjoy the process, because the tipis are absolutely worth it.
Other than that, I'd just say don't sweat the small stuff. Yes, everyone says it, but it really is so true. You are so overwhelmed with love, and having all your family and friends around, that it doesn't matter if you forget the bouquet toss. Oops.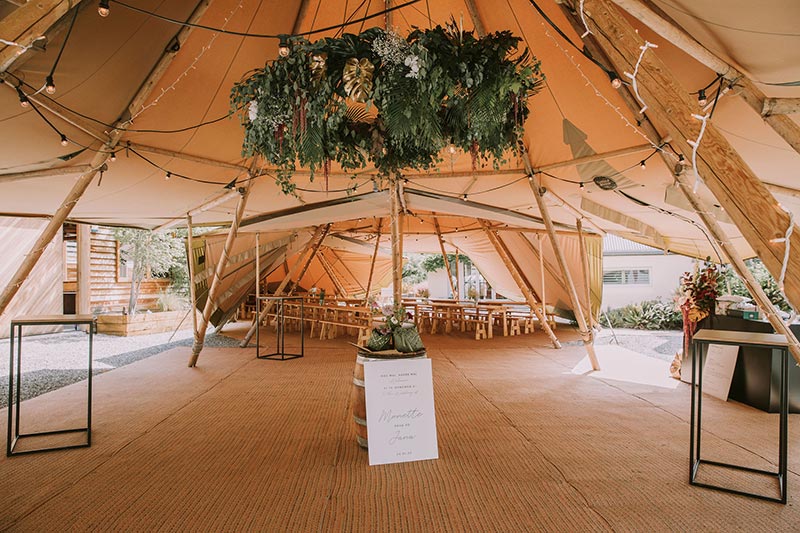 Any hot tips for loved-up couples heading towards the altar and planning a tipi wedding?
Don't get too caught up in it all. If you want small and intimate, then stick to that. For example, we'd always said we wanted a small cake. We're not big cake people, but we did want something to cut. And yet in the hype of it all, we almost got caught buying a huge, three-tiered cake. But as stunning as the cake was, it just wasn't us! So if you feel you're going off-track, don't forget your original vision.
Find your "cannot live without" items, vendors, and priorities, and work everything else around that.
Have your secondary list of "must have" items, and if your budget can afford it, then add it. We did this,and felt so lucky when we could pull something off a secondary list!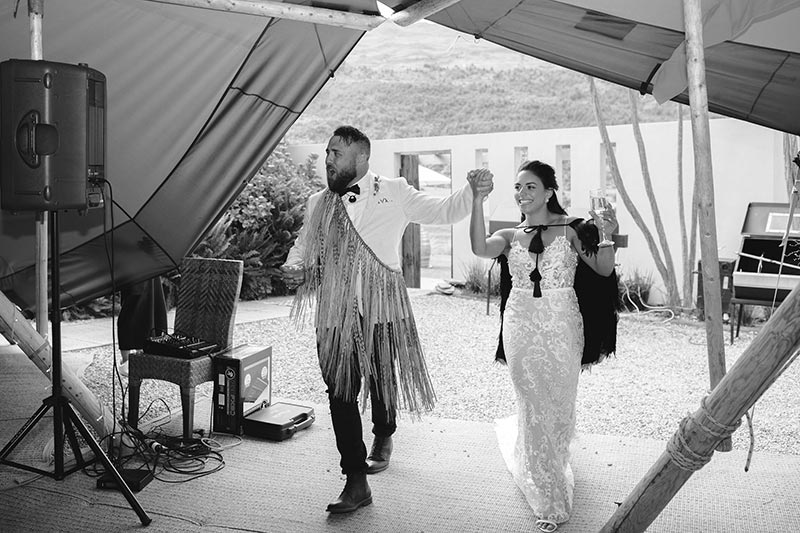 All the team at Gather & Gold loved the build up to Netty and Jana's wedding, it was a privilege to work so closely with these two. Every step of the journey felt easy, laid back, and right – no matter what obstacles came up. Just the way it should be.