For Rachael and Michael, a fairytale tipi wedding was the only way to celebrate their big day. Filled with laughter, luxury, and a ludicrous amount of love, Rachael and Michael said their I do's surrounded by stunning lake and mountain views out in Hawea.
We first met the lucky couple for a coffee at Scroggin on a crisp winter's morning. We got to chatting over flat whites and warm fires, and discovered that Rachael grew up in Hawea. We immediately knew we had the perfect site for them, and soon were on our way out to The Hide at Lake Hawea Station.
Tucked into the side of the mountains bordering Lake Hawea, the site is surrounded by native plants and the most incredible views. Even the drive out is a total Kiwi experience, with gravel roads, sheep filled paddocks and fords. Their onsite lodge and small cottages were dropped straight out of an interior magazine – New Zealand wilderness with a touch of luxury. At its finest. Every couple married at The Hide also gets to plant their own native tree that they can go back and visit at any time. Tissues, anyone?
As soon as Rachael and Michael saw the site, they were sold. We all got a little bit emotional, with happy tears and hugs all around. And you thought we were joking about the tissues. They locked it in there and then, and the rest is history.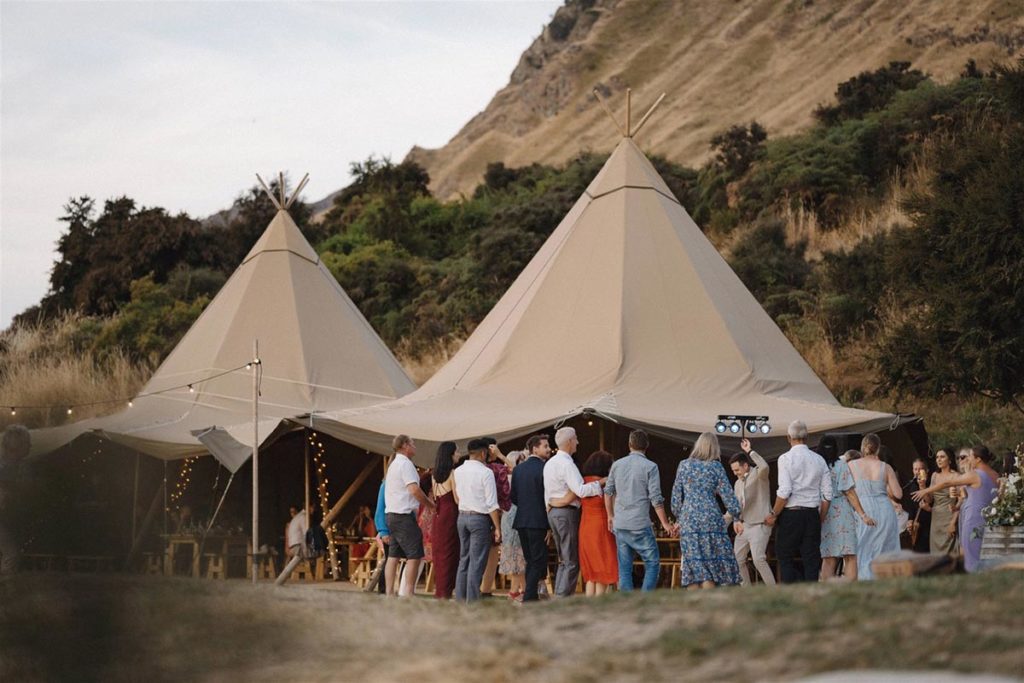 So, without further ado: here's where their wedding day ended up, as told by the bride herself.
QUESTIONNAIRE
Where did your wedding planning journey begin?
Michael and I got engaged in 2017 after backpacking for a month through South East Asia. We started looking into our dream day, but decided we wanted to see the world and ended up moving to London. We arrived back in New Zealand at the end of 2020 – and the very next day after landing in Queenstown, my mum took me venue shopping. And so the planning began. We wanted a relaxed vibe where our family and friends would feel comfortable to let their hair down and celebrate!
Did you have any must have vendors? If so who and why?
We first saw the Gather & Gold tipis at the Wanaka wedding fair before moving to London, and immediately fell in love with the atmosphere they created.
Mickey Ross, in my opinion, is the best photographer in Wānaka. We knew he was a must have, and now have so many beautiful photos of our day we'll be looking back on forever. Being from Lake Hawea, I was able to choose vendors who were also good friends – the ones you trust to do an amazing job. My maid of honour's dad, Johnny, runs Sea2You and did an incredible job of our food, and Jane from Alpine Flowers Wānaka brought my vision to life with her stunning florals.
Did you have clear vision of what you wanted, or were you guided by your vendors?
I let my vendors guide me. No one knows what they're capable of better than they do. They knew the overall vibe I was going for, but I didn't see the need to unnecessarily stress or micromanage them and put all my trust in them being able to deliver, and they did just that!
What's one thing you're glad you did?
The day goes by so quickly and we were conscious of taking it all in. We took time to check in with each other throughout the day, had a few special moments with just us, and observed our loved ones in one place having a ball. We're so grateful.
Favourite moment of the day?
It might sound cheesy, but getting to marry each other in front of our family and friends was the all time highlight. Leading up to the wedding, so many of our plans were turned upside down (mainly due to Covid) but none of that mattered when we were standing across from each other.
What was your favourite small detial of the day?
One of my amazingly thoughtful friends bought me a leather bound, engraved, blank book handmade just for us. We asked each of our guests to take a Polaroid picture, glue it into the book, and add a message for us. Full of memories, the book now lives on our coffee table and we often flick through it reading everyone's beautiful notes! Also makes great day-time reading for our visitors.
What was the biggest laugh out loud moment of the day?
We'd organised with our photographer that after the reception we would slip away and take a few golden-hour photos. After a few too many bubbles, we hurried into the back of his car and slammed the door – with part of my dress hanging out. None of us noticed, until we started reversing and accidentally ran over the dress, ripping the edge! We all laughed, and I was so in the moment and having the time of my life that I could not have cared less. The dry cleaner definitely had a few questions, though!
Any advice to future tipi couples that you wished you'd known?
Trust your vendors. Sarah and her team at Gather & Gold know what they're doing, and are so well connected to the wedding market with recommendations for any and all of your questions. They're there to help – use them.
Do you have any tips for couples that have just got engaged and are planning a tipi wedding?
Don't sweat the small stuff. The tipis speak for themselves!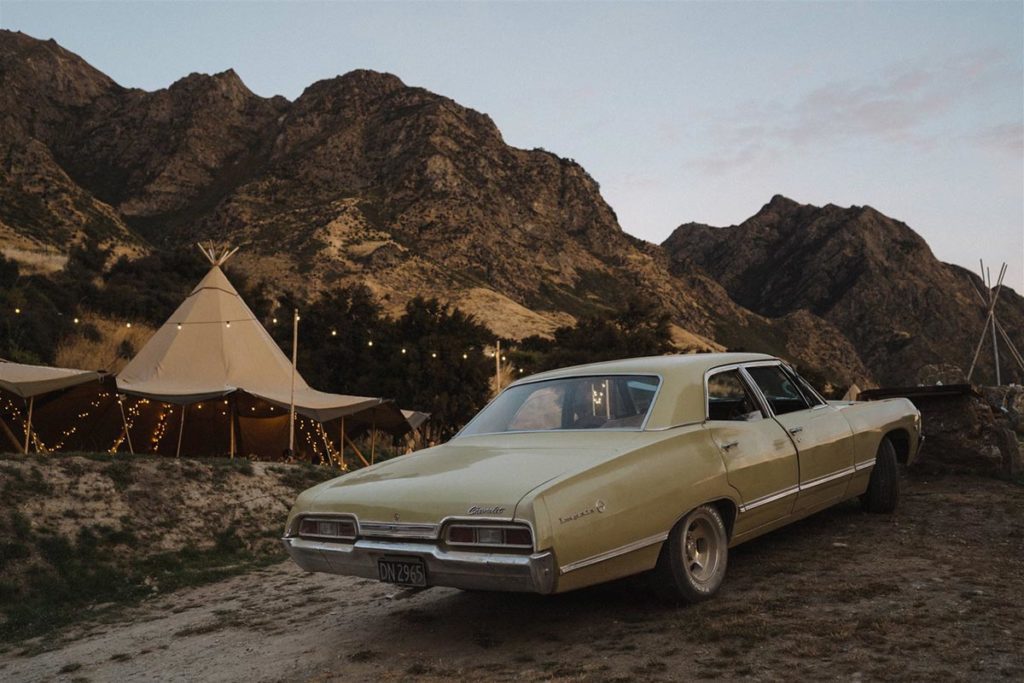 So there you have it. A stunning day in the Central Lakes, Rachael and Michael's tipi wedding stole the show in every way. With a beautiful blend of family and friends amongst spectacular landscapes, this was one day they won't ever forget.