These days, it's all about standing out from the crowd. Cutting through the noise. Making your corporate event less, shall we say, 'stiff', and more water-cooler-rehash memorable. You get the drift. Our solution? Tipis, obviously.
Nordic tipi tents in NZ are a sure-fire way to help separate your brand from the white noise and pull-off that casually glamorous look that will spice up your next corporate event space. Got a product launch on the horizon? Celebrating a big year at your business, or just getting through a year and need a grand excuse to let a little loose? Maybe you've got a business incentive trip on the cards, or a festival theme promotion lined up. Whatever it is, tipi tent hires mean your corporate event is designed to be just a little bit more.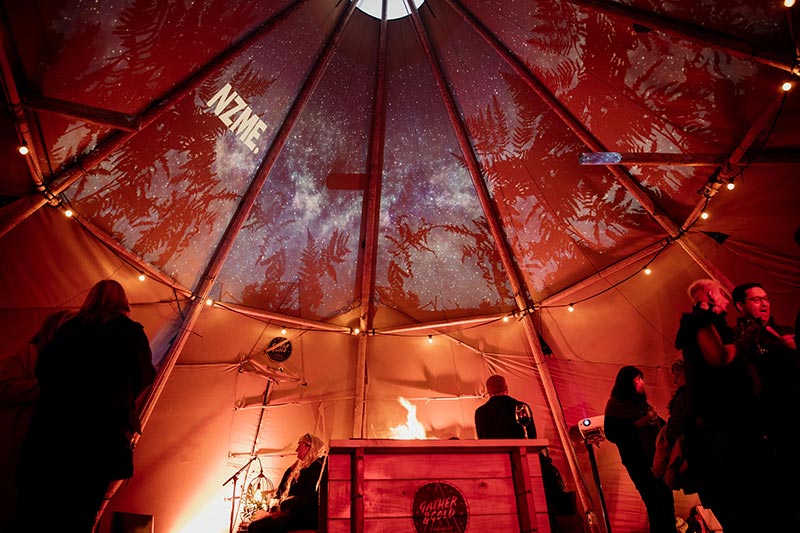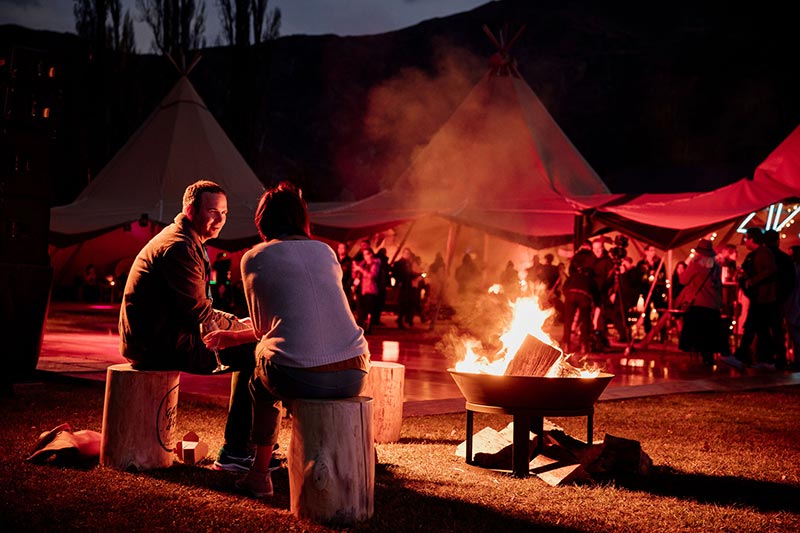 So go on. Read a little further for a few ideas on how to spice up your next corporate event setup, and start rocking the tipi rentals already.
Choose unique space or venue
First things first: location, location, location. If you want to make your next corporate event your most memorable yet, it begins with finding the best corporate event space near you. And by space, we do mean space.
For over 5 years, we've delivered hundreds of events to the most remote, backcountry corners of New Zealand. With heli access to effectively the middle of nowhere, we've set up full Coachella themed festivals, built a single tipi in the middle of Paradise, set up Tipis at remote lakes that guests are helicoptered into, and more. If you can think it, we can do it. Probably.
The point is, when it comes to choosing a corporate event location near you, the further away from the office you can get, the better. Think backcountry glamping, a snowy mountain whisky bar, or luncheon with jet boat access only. Then add tipis, and your NZ corporate event just got even better.
So get creative with choosing your corporate event venue, because this may just be your best corporate event experience yet. And ditch the lazy office attire – it's not a Tuesday afternoon, Jim.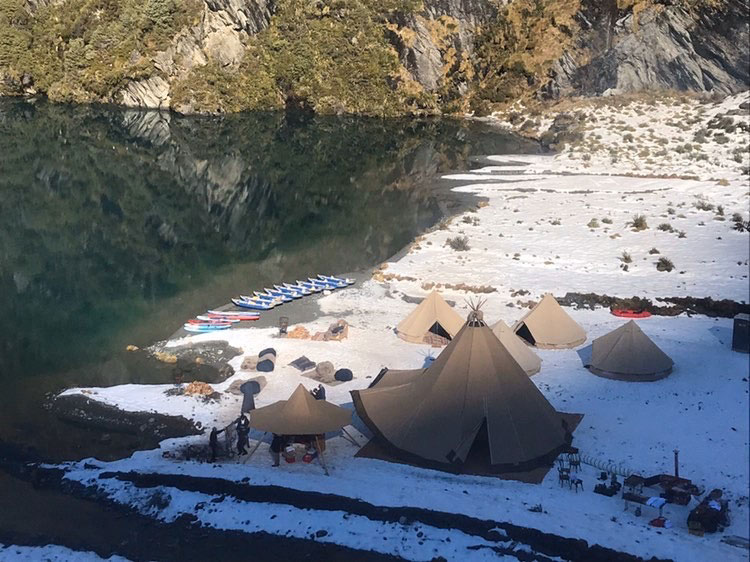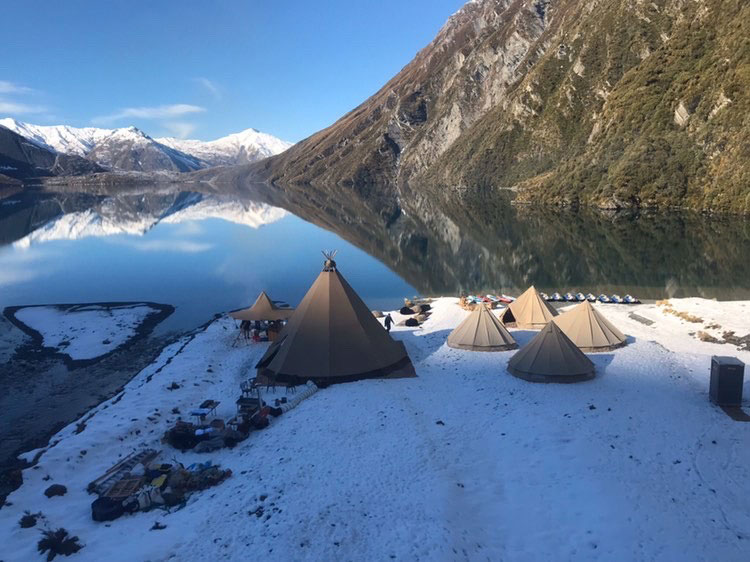 Give your corporate event a theme
Nothing says 'stand out from the crowd' like adding a theme to your corporate event. A riverside festival, a whimsical night to remember, a carnival under the stars – there's no shortage of corporate event entertainment ideas. Whether that's party themed or a classy wine-and-cheese type of event, the world is your tipi oyster.
No matter what you decide to go with, you'll want a theme that gets people involved and excited, one that will get folks talking about it long before and after the event. If you're stuck for ideas, get your brainstorming cap on and get creative. Hell, pour yourself a wine. There's ideas a-plenty when it comes to successful corporate event examples that perfectly complement your tipi hire – not to mention the saviour that is Pinterest, with all the latest and greatest corporate event trends.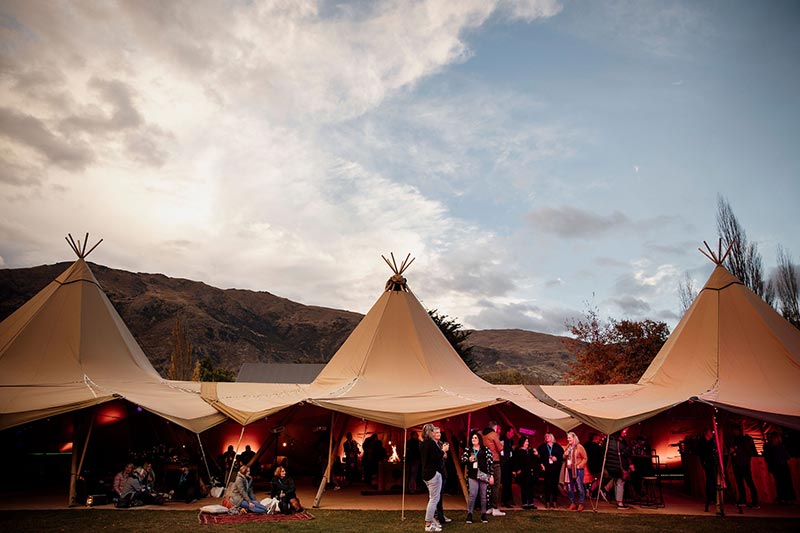 Run some fun activities
Hey, don't underestimate the power of team building events. Nothing says let's get comfy like a few tried-and-true corporate event activities – and no, we're not talking three-legged-races and egg tosses. We're talking fun activities. For those adventure seekers, why not go the extra mile with activities like pack rafting, bungy-jumping, paddle boarding, ski touring, heli skiing, and/or anything else that gets the blood pumping. We're a great middle-man when it comes to finding guides or companies that will give your guests the experience of a lifetime, so give us a shout and we'll get busy finding you the best deals.
Or, if jumping off mountains isn't one of your top corporate event activity ideas, maybe some epic live performances might be more your go. Lucky for you, the Wānaka-Queenstown area is quite the hub when it comes to live or virtual events. Whether you're after DJ's, live bands, fire throwers or face painters – you're in luck. We know a guy. Slash gal. Slash team. We've got you covered.
Lastly, if all else fails or even if they don't, make sure to treat your guests to a delicious array of food and wine. Nothing says corporate win like a table full of tasty treats and a bar full of top-shelf wine. Here in the Central Lakes District, we're incredibly lucky to be surrounded by amazing vineyards and culinary delights, and we're more than happy to point you in the right direction. Whether you're after gourmet food trucks or 5-star chefs and four course meals, we've got a few great recommendations to throw your way. Just say the word.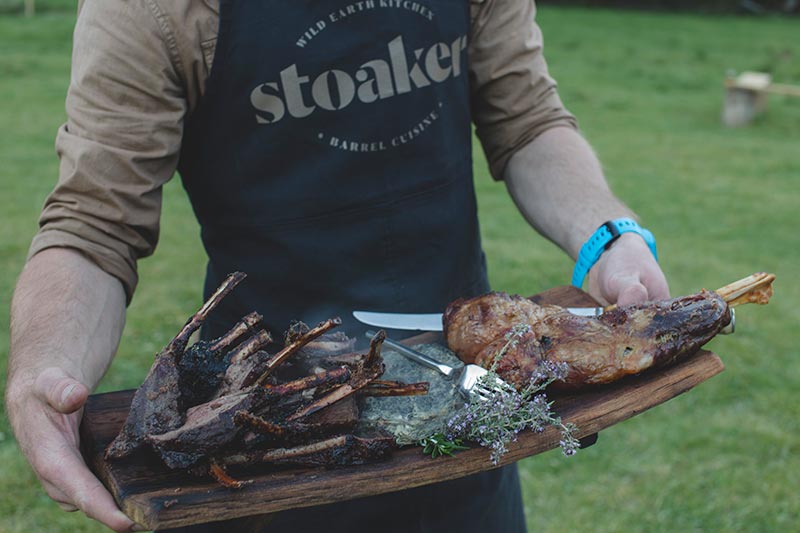 Organise extra entertainment
Lawn games, karaoke, a wine bar, a fireplace under the tipi – there's no shortage of extra entertainment to push your corporate event to the next level. Think about the space available to use, the theme (if any) of your event, the people you'll be hosting and the kind of budget you've got on hand. Again, live music and a flowing bar go a long way for setting the mood, and we've got a wide range of tipi decorations to perfectly complement your tipi event.
Examples of our corporate events
We've been fortunate enough to host an incredible amount of destination weddings and events over the last few years. From mountain elopements to riverside events, we've seen it all, and we're here to help bring your corporate event together just as you envision it.
A few of our favourite events to date? One would have to be paddle boarding at Lochnagar for Minaret Station. There, we had a single tipi which was used for the dining space of a small, but memorable corporate party. It was a dream.
Another top experience would hands down have to be the Coachella themed festival at Waitiri Creek in Queenstown. Based around three tipis, there was live music, standing AV from Tom Tom, and the whole thing was organised by Ripple, who specialise in Corporate Incentive Events. Nothing says efficiency like leaving the event planning to the event professionals and corporate event planners. Again, a dream.
So there you have it. Tipis on hand and one blog smarter, consider yourself armed with all the tools you need to make your next corporate event totally unforgettable. So, if you're ready to start putting your ideas into action, flick us a call or get in touch – we'd love to chat, and we'd love to help you pull the whole day together for the event of the season. Tipis included.