Forget the church and hall. Forget the flashy resort with black ties and oysters. You barely wear shoes on a good day. Getting hitched in an open tent with fairy lights, Moroccan rugs, an indoor-outdoor wedding flow and stunning views that'll get the nod even from Grams is much more your vibe. The only question is, do you go full tipi wedding venue, or play it down with a simple marquee?
If you've got a few great tipi or marquee wedding ideas and are tossing up between 'em, we're here to give you the full run down on the pros, cons, perks and works of both. Here's a few things to consider when deciding between a tipi or marquee:
Decide on your wedding style
How your location will influence your wedding
How many people are we talking?
Too hot to trot. Literally.
Glam up your corporate event.
It's your wedding. Make the most of it.
Let's tuck in.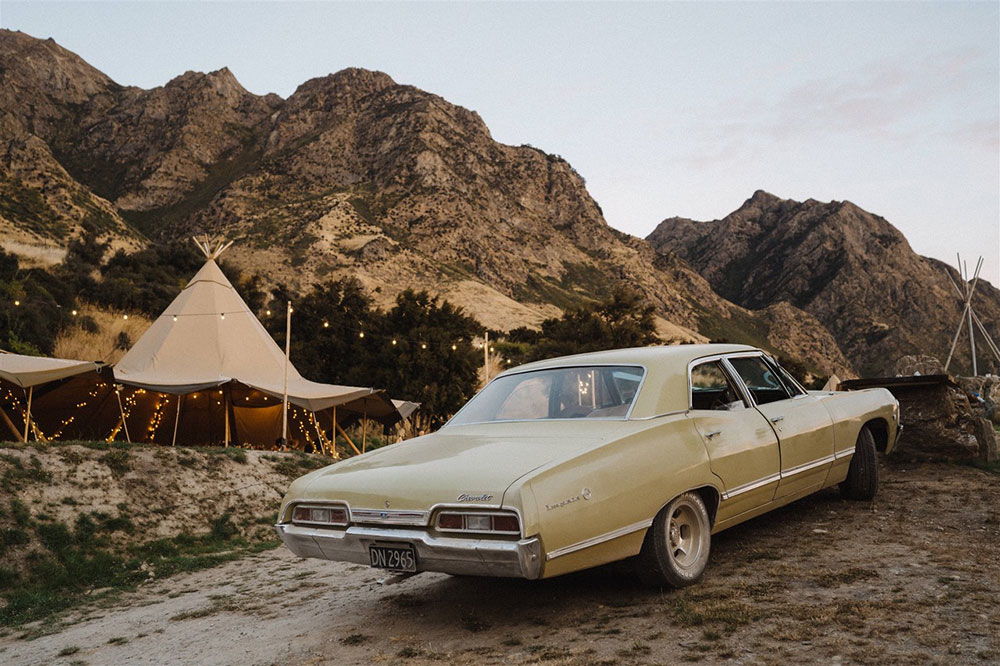 Decide on your wedding style
First and foremost, the biggest difference between tipis and marquees is style. In the words of someone rich and famous and probably very glamorous, style is a way to say who you are without saying a word – and boy, do these tipis do some talking. Glamorous, luxurious, and boho to boot, tipis will put on one helluva show no matter how you style them. Check out these tipi wedding ideas to really get the creativity flowing.
Don't get me wrong, marquees can be fun too – it might just take a little more work and effort to really get your marquee wedding hire all glammed up and ready to go. Think silk linings, extra furniture, and a good few props and pieces. These extra touches can all add up, so if you're working on a budget it'd be worth keeping in mind when you're getting a quote for a traditional marquee, as this may bump up the average cost of a marquee wedding.
Granted, our Nordic tipis look delicious with a few extra rugs, outdoor furniture, and lighting thrown in. In fact, we've got quite the selection when it comes to adding a little bit of sparkle to your tipi setup. The biggest difference is that even without all the extra bits and pieces, tipis are such a statement in and of themselves. At the end of the day, people will remember the space they're in, and tipis are the perfect way to ensure an unforgettable, one of a kind experience.
On top of that, tipis are great for bringing a super relaxed, exciting, adventurous vibe to the day. A little bit of party and a little bit of chill, tipis will have your guests relaxed and enjoying every minute. Forget stuffy or contrived formality, these tipis will have your aunties and uncles spinning yarns around the campfire while your closest mates are tearing up the dance floor. There's something for everyone. Plus, did we say they're fun? So fun.
How your location will influence your wedding
Location, location, location. On this front, marquees and tipis are both great options if you're wanting a bit more flexibility around where you tie the knot. Your parents' backyard? Done. A marquee specific venue? We're there. A dreamy field you stumbled across on your friend's farm? All over it, Gina. However, there are a few important things to consider when choosing your wedding location.
Do you want on-site accommodation for your guests? Somewhere with a bar, power, and toilets that aren't portaloos? Or do you prefer to smack a tipi in the middle of a paddock and let the chips fall where they may? Nothing says keeping the mystery alive like your guests expecting a plain ol' marquee-on-a-farm type wedding and turning up to a full on Moroccan tipi wedding. Surprise.
Due to their portability, there are lots of places to have a marquee wedding or a tipi celebration. Special emphasis on the tipi portion of that equation – in our many years as tipi gurus, we've flown our tipis into remote mountain locations, set up on the shores of Moke Lake in Queenstown, and put together full festival style weddings in exotic Central Otago locations you could only dream of. *Waves Fairy Godmother wand*.
There are also tipi specific sites that'll have you drooling, and we're chuffed as punch to rub elbows with some of the finest locations in Central Otago. Think Sherwood, Dublin Bay, the River House, Lake Hawea Station, Buchanan Lodge, NZ High Country, and Paradise Trust to name drop one or seven. These are some of the most beautiful places to set up tipi, so get in touch to blatantly use us for our connections. We're into it.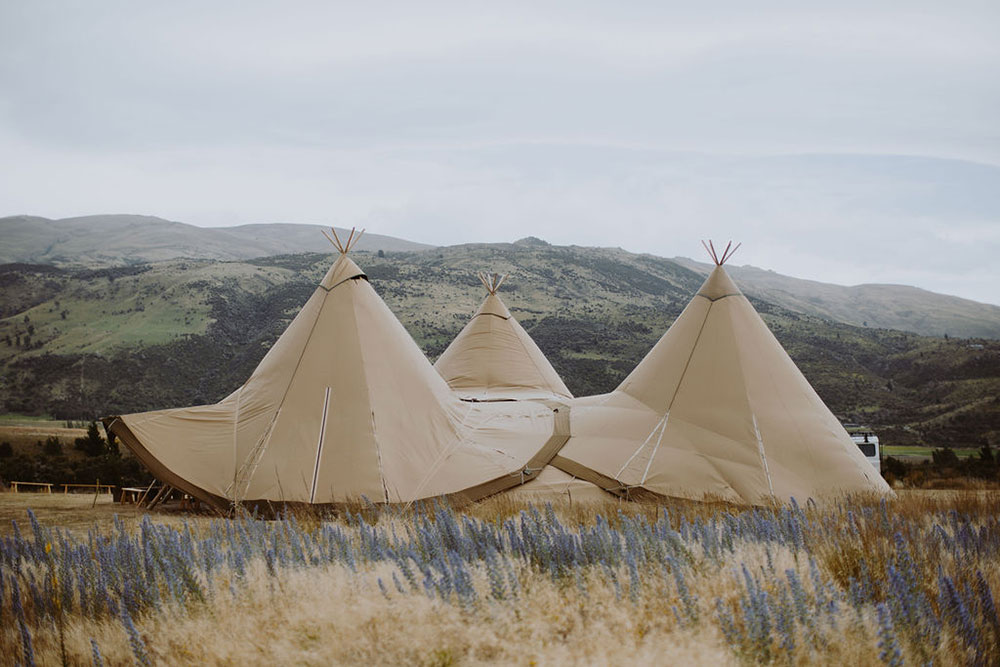 How many people are we talking?
The number of people you're inviting may also have a say in whether you go for a tipi or a marquee. While marquees are all fun and good, shoving people in until the walls pop is a little less fun. Seamless segue and timely solution: with tipis, you can just link on an extra one. More space, more people, more fun. Less sweaty rubbing up on strangers. Unless you're into that, of course.
When it comes to designing your tipi layout, we got options, baby. Fancy an intimate wedding with your nearest and dearest or a full-on festival with six tipis and all the extras? We can do both. Whether you want one or six tipis, linked or loose, out in the open or fit in around your house – we're flexy. Leave it to us, and we'll craft a setup that will bring your tipis together in the best way possible.
If you do link several tipis together, one of our favourite perks is that instead of having one big rectangle (so square, am I right) you can set up lots of different zones and spaces, each with their own style. Think one tipi for a bar area, one designated to dining, one holding the dance floor with a full on 80s style disco ball, and one filled with cushions and cozy seating for those post dinner chats around the campfire. Plus all the outdoor areas in between. Dreamy, just dreamy.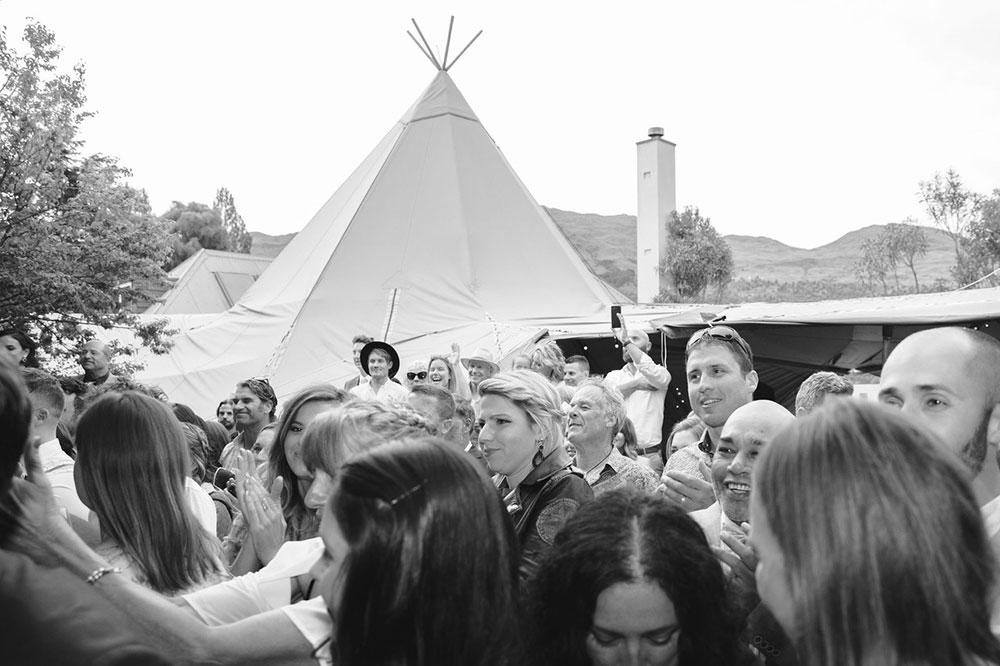 Too hot to trot. Literally.
Just quietly? You're hot, baby. But on your wedding day, trust me when you say you don't want to be too hot. Now, not to throw shade at marquees, but let's just say a little shade would actually go a long way in a clear marquee – it can lean on the sweaty side of hot and stuffy in there. Especially under that hot, Central Otago sun.
Tipi wedding tents, on the other hand, can provide that much needed cool escape on those hot summer days. The thicker canvas provides better protection from the sun, and stops your guests getting all hot and bothered before they've even hit the dance floor. It's like a cool, long drink of water in here.
Glam up your corporate event.
Tipis are no one-trick-pony. Yes, they hit the g-spot when it comes to weddings, but they also add the perfect amount of spice and excitement to your corporate events. After a way to really make your corporate event memorable? You just found it. Scratch that marquee hire right off your list, and go with a tipi tent instead.
Whether your corporate event is a walk-and-fork situation or you're putting on a full sit-down meal, tipis make the perfect setting. A sit down meal in a tipi is a one of a kind experience and is all sorts of magical. If that's the way you're going, we suggest popping at least two tipis together to give you a few zones and spaces for people to mix and mingle post-meal.
It's your wedding. Make the most of it.
At the end of the day, a tipi wedding is an unforgettable, magical experience. We've heard from countless couples that their tipis really 'made the wedding' – so if wow-factor is what you're after, the tipis will deliver every single time. Whatever you decide, whether a glamorous tipi wedding reception or a marquee affair, just make sure to add your own style, flair, and a decent dose of creativity to bring together a space you adore.
When it comes down to it, it's your wedding day. You're creating memories that will last a lifetime, and you're going to be talking about this day for years to come. So go on – make it unforgettable. Celebrate with no regrets, and treat yourself to a wedding day you'll tell your grandkids about. Tipis, fairy lights, and 80s inspired disco ball included.